You get what you pay for?How to identify the flexible OLED and rigid OLED?
Views:251 Author:Site Editor Publish Time: 2018-09-28 Origin:Site
(front)Cosmetic comparison after installation
-----The width of the left and right borders and the upper and lower borders of the flexible OLED are the same,While the bottom frame of rigid OLED is double the width of original screen.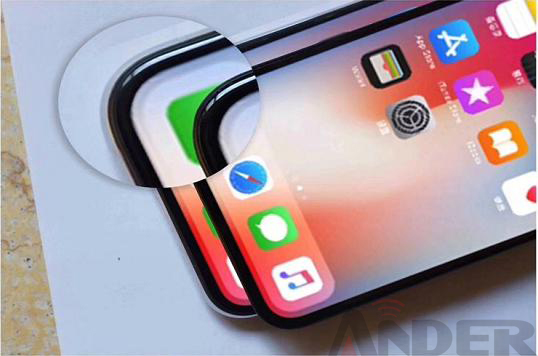 (Back)Check the back of Screen
-----The flexible OLED reveals a glass-golden edge on both sides of the earpiece, which is the color of the flexible OLED glass, and other products show a gray edge at this location.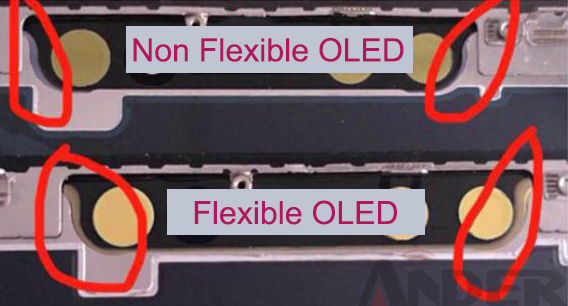 Here are TOP 3 FAQ of China market flexible OLED:
Q: The phone will get thicker after replace the flexible OLED?
A: No. The thickness of flexible OLED is same as the original one.More details of comparison please refer to this article:Aftermarket Flexible OLED VS OEM OLED
Q:The display area is the same size as the original after replace the flexible OLED?
A: The size of the display area of the flexible screen is 1:1 completely with the original one, so you don't have to worry about the inconsistency of the displayed border will affect the users' experience.
Q: How about the durability?Is the internal screen easy to break?
A: Flexible screen is made of polymer material, it is very soft and durable as original. This is also the big difference between flexible OLED and rigid OLED.The rigid OLED and TFT screen are too fragile.More details of quotation feel free to contact us at web@ander-parts.com.
Currently,there are many types of screen of iPhone X and price changes frequently.Many suppliers use the "fake" OLED cheat our customers.Even just sell the rigid OLED as flexible or original ones. It caused big confusion.
Ander LCD factory, our aim is: Preferred iPhone LCD Supplier for Large & Medium Clients.Therefore we attach great importance to long-term relationship, so we will share the genuine and valuable information with our customers.
We are warmly welcomed any of your suggestion to our blog,products and service.To make us better!